From Mogliano to the World
Twining is not just a simple gesture, it is a way to rediscover and renew old bounds between mankind and its traditions and territory, translating it today with the aid of innovation and design.
The art of twining is typical of the town of Mogliano, where a slow and constant process of socio-economic transformation took place, starting from peasant roots and leading to the flourishing of many craft activities.
Since 1800s twining of reed and wicker has been complementary to the work in the fields and then it became prevalent, with particular attention in regards to the use of midollino wicker.
The leap of quality occurred with the introduction of new materials, imported from Asia, such as bamboo cane in all its diversifications, rattan, burgundy, manao and manila.

Thanks to the strength of these materials and the advantage of no maintenance needed, you can obtain furniture for both indoor and outdoor use.
Interior furnishings, magazine racks, chandeliers, ceremonies favours, trays, mats, wood racks, furniture for terraces, gardens and hotels are ordered all over the world from Modigliano.
These pieces of craftsmanship and history have established themselves on both national and international markets as "Handmade in Modigliano" products, recognizable and inimitable for their variety of shapes and shades.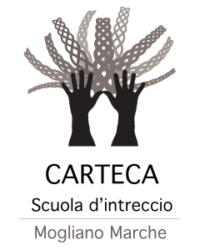 Thanks to the collaboration of some local entrepreneurs, a few years ago,the school Carteca was created in Mogliano, with the aim of passing on this ancient tradition to future generations. It is an association of master craftsmen who, through workshop techniques, passes down the ancient know-how to new generations.
Thanks to Carteca, those who want to learn this ancient art, with the desire to turn a passion into a job, can be trained by the best Italian weavers.
Most of Mila Maurizi's weaving craftsmen are young, trained in Carteca and they work under Peppe's watchful eye.